ABOUT PERSYS TECHNOLOGIES
Persys Technologies Bhd is a software technology company that provides bespoke enterprise solutions, mission critical applications and Enterprise Content Management (ECM) solutions in Malaysia.
Empower Your Business With Proven Enterprise Solutions
We are a specialist in Enterprise Content Management (ECM) solutions & systems, having implemented numerous mission critical applications for medium-to-large organisations with an unbroken 100% track recordof successful project deliveries over 11 consecutive years.
Our mission is to deliver enterprise solutions that bring business results and continuously add value to your daily operations.
We are extremely dedicated to our ensuring that our clients' goals are met – as such, we have never ever failed a single project all these years. We believe in going the extra mile to ensure that you get complete peace of mind.
One of the reasons why we're able to help our clients achieve business results is because we perform deep analysis to understand how existing processes work in their organisation before proposing solutions. Our collaborative approach allows us to propose solutions that truly fit your needs and is compliant with corporate requirements.
As such, our enterprise solutions are always made to fit in with your existing systems and be able to remain highly reliable, robust and scalable for the long-term.
WE ARE THE RIGHT FIT FOR YOU IF…
YOU WANT TO WORK WITH A SPECIALIST ► We are domain experts of Enterprise Content Management (ECM) solutions in Malaysia.

YOU WANT SOMEONE WHO ALWAYS DELIVERS ► We have proven skills in project management with 100% successful deliveries.

YOU WANT THE BEST IN TECHNICAL ► Our team of engineers are known for their technical knowledge and ability to implement.

YOU WANT MAXIMUM VALUE ► Our experience working with various hardware, software and legacy systems enables us to take a more cost-effective approach to development.
Contact us to discover how you can achieve your business goals by leveraging your organisation's existing data, processes & systems.
OUR KEY PRINCIPALS & PARTNERS
We are an IBM Premier Business Partner, Kofax Platinum Partner, Oracle Gold Partner and Microsoft Gold Certified Partner in Malaysia. With our partnerships, we are able to leverage on some of the world's largest technology providers to develop robust, flexible, granular and scalable enterprise solutions that maximises cost savings for our clients.
Instead of developing proprietary solutions on our own, Persys builds upon existing established technologies that are widely used globally – while adding to the functionalities & capabilities of these trusted platforms.
Since our enterprise solutions are build upon best-of-breed technologies, our clients can trust that much research & development efforts have been invested to ensure that the platforms are architecturally sound.
OUR TECHNOLOGY
Unlike using off-the-rack products, which usually require additional investments in hardware & software, our customised solutions are able to integrate with existing legacy systems. This way, you can take full advantage of previous IT investments, instead of having to replace them unnecessarily.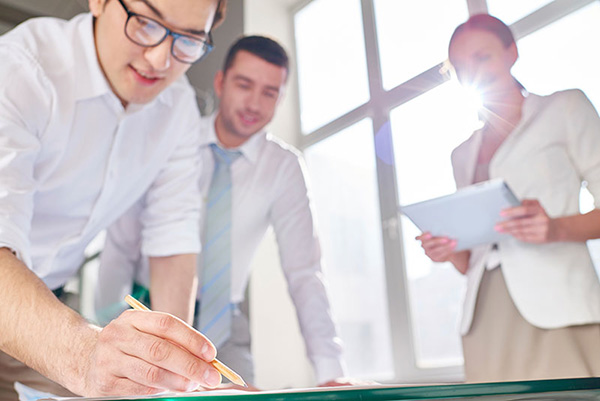 OUR PEOPLE
People have often told us that we are the company to go to when there's a complex IT problems that no one is able to fix.
Due to our technical experience, our team possesses the know-how and skill sets that enable us to help you solve your most challenging IT issues. Our team of engineers, pre-sales and sales consultants collectively possess the largest number of certifications in the region.
We continually invest into developing our talent – all our engineers are professionally certified by our respective Key Principals in implementing enterprise systems. Our team have over a decade of experience working with many executives and managers from medium-to-large enterprises in various industries.
With this, we have developed a very deep understanding of the needs, challenges and issues faced in the corporate world – and we are familiar with how to make things better.
We have developed deep domain knowledge with over a decade of experience providing solutions to medium-to-large corporations in these industries:
































CONTACT US
Do you face complex Enterprise Content Management challenges that require superior technical specialists in these domains: banking, government, insurance, logistics, manufacturing, telecommunications, property or education?
Our 11+ years implementing enterprise solutions for medium-to-large companies in Malaysia may be useful to you.
To find out how you can benefit from our technical experience, please fill up the form here and we will arrange for a FREE confidential discussion.
For contact information on our offices, please refer to our Contact Us page.