INTELLIGENT, DIGITIZED & AUTOMATED
ACCOUNTS RECEIVABLE & PAYABLE
AT YOUR FINGERTIPS
ACCOUNTS RECEIVABLE & PAYABLE SYSTEM BY PERSYS
Choose the scenario below that is most familiar to you:
Paper-based documents take up space, are cumbersome, and difficult to track. It can be very tedious to not only keep a paper trail of records but to also find relevant documents in a timely manner.
In the early stages of a company, when the volume of business is still small, the process of handling invoicing and supporting documents manually may still be manageable. However, as your company grows bigger with increasing business volume, so does the challenges associated with manually handling paper trails.
HAVE YOU EVER BEEN IN THIS SITUATION? ▼
You have delivered to your customer and invoiced them.
A few months later, you chase for payment.
Your customer replies, "I never received your delivery order".
But you can't find your delivery order either…
So what do you do now?
We surveyed 200 multinational companies operating in Malaysia on the Top Reasons Why Payments Are Delayed.

We discovered…
More than 60% of the transactions are not paid because supporting documents are lost


Another 25% of the transactions are not paid because supporting documents are not attached with invoice

One of the most important activities in a company is the ability to process and collect payments on time for services rendered. This ensures that your business has a healthy cash flow and you have the flexibility you need in effective cash management.
Having an AR system customized to your company can help you achieve this.
CAPABILITIES UNLOCKED WITH AR SYSTEM
To ensure collection can be made in a timely fashion
To be able to provide any supporting documents in a timely fashion
To promote collaborations among departments to ease the burden of the Finance Department
To get the auditors out of our office as soon as possible
To comply with Bank Negara's statutory requirements
To have an electronic copy in case the physical document is lost
To increase security awareness
To integrate with backend systems
Collecting payments from customers can be made easier.
View the full features of our AR solution to see how you can benefit from it. ▼
In a typical Accounts Payable (AP) workflow, vendors/suppliers may submit several documents for processing – invoice, Delivery Order (DO) and contracts. These can come in the form of fax, paper, email, PDF attachments, SMS through various channels.
Having to navigate through various documents is a time-consuming task. This is because for every piece of information that comes in, before it can be of value, an organisation has to look at that information, understand what kind of information it is, decide what to do with it, and then only direct it to the appropriate system or business process.
This understanding and deciding is usually done by a person, but doing this manually is very labor intensive, expensive, slow and prone to errors.
ARE THESE SCENARIOS FAMILIAR TO YOU? ▼
Key Market Drivers for AP Initiatives showing common challenges and pressures faced in AP management.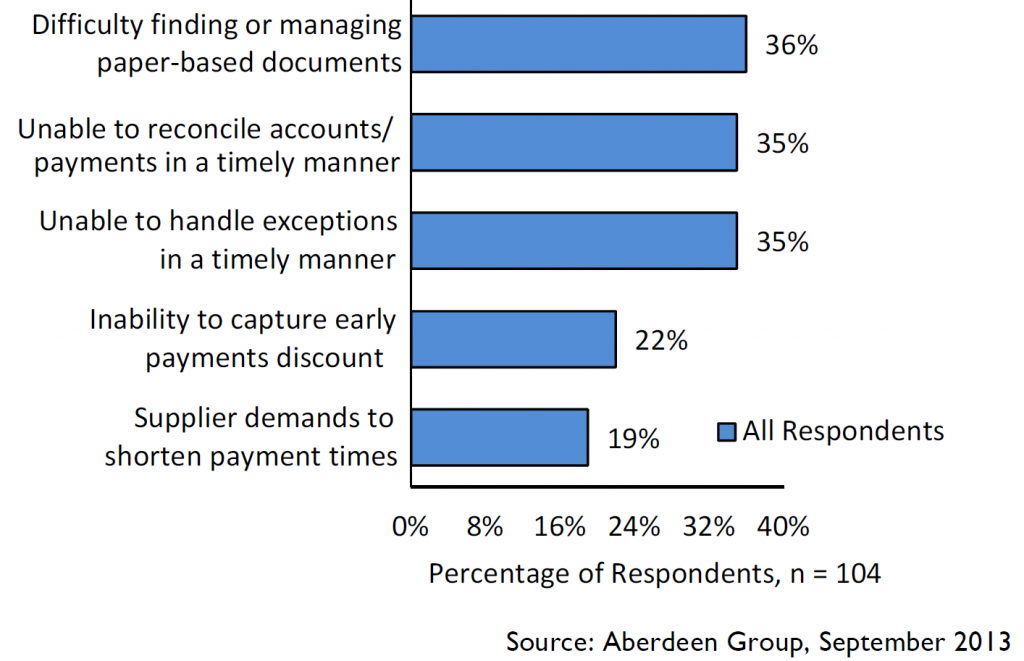 AP Pain Points showing severity of pain faced by AP department managers that contribute to increased cost.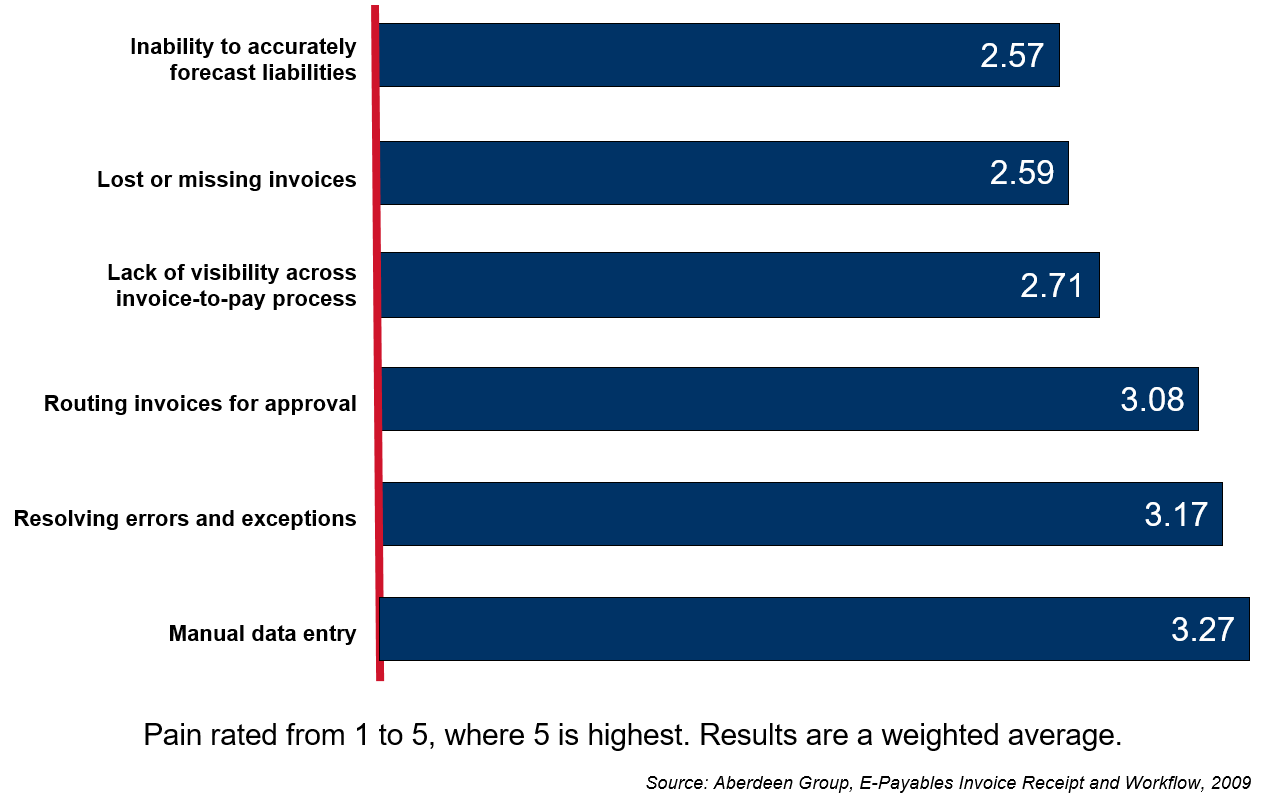 Do you know how much it
Costs to Process 1 Invoice?

Aberdeen asked survey respondents to track their invoice processing costs & durations. They found that Laggards had twice the invoice error rates of Best-in-Class organizations and had to involve management intervention twice as often.
As a reward for their efficiency, Best-in-Class organisations…
Pay 1/5 the cost that a Laggard pays for processing invoices.

Are also 5 times more likely to capture early payment discounts for their efficiency – actual cost savings that directly impact a company's financial bottom line.
From the table showing the level of accuracy between actual and target Days Payable Outstanding (DPO), Best-in-Class organizations clearly are able to accurately estimate and achieve their targets.
This grants Best-in-Class AP departments superior financial visibility and forecasting capabilities compared to its counterparts. With accurate financial forecasting, the AP department is not limited to only an operational role, but is now able to serve as a strategic function to a company.
Processing payments for your suppliers does not have to be a pain.
View the full features of our AP solution to see how you can benefit from it. ▼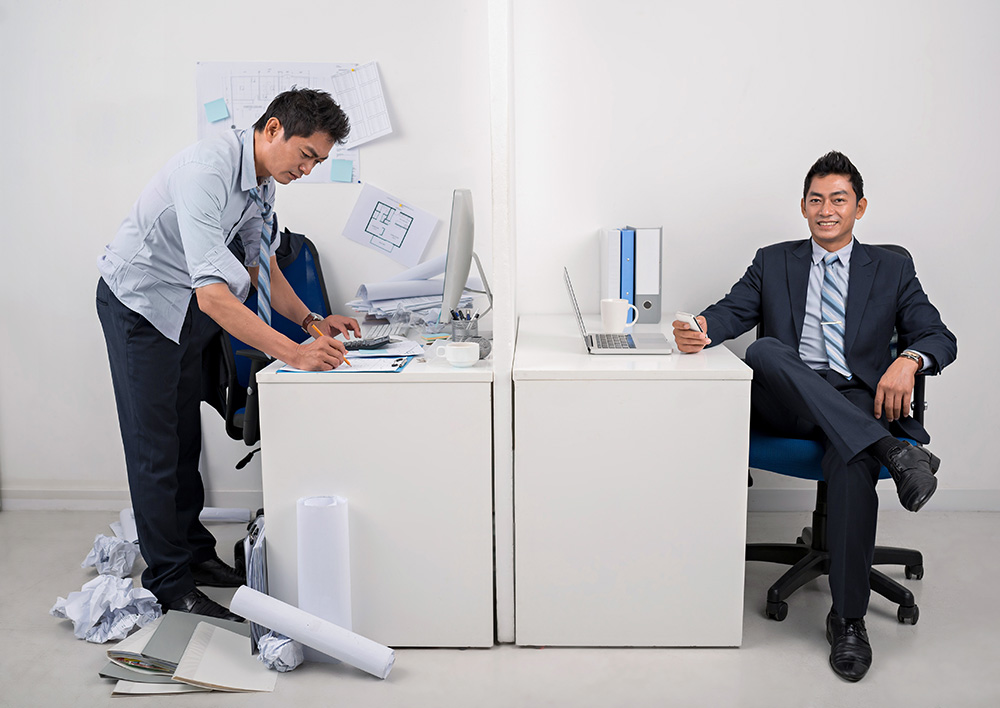 Would you rather be the person on the left or right? Our Accounts Receivable & Payable System can help you:
Increase operational efficiency


Reduce costs


Enable a productive work environment

We have helped our clients achieve these goals with solutions customised to fit their existing business processes & systems. Arrange a free live demo with us today to find out how your company can also benefit.